CSM Dispenser

The CSM Dispenser is one of several services in the CSM Session Administration System (CSAS) developed by Danmeter.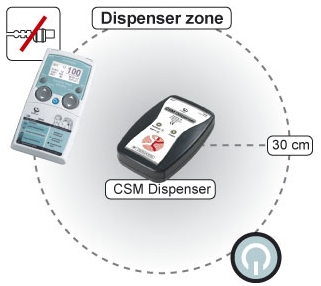 Value of CSAS to Customer
Sessions act a Security System to deter theft or "walking away"of the Monitors as they will be useless without Sessions which are renewed through a system that check device registration for the proper owner.




Act as a Procedure Pack Inventory Control Manager that alerts the users of the status of their Procedure Pack inventory and when they should be reordering. Proper patient care depends upon having the supplies available for treatment and the CSM Sensors are no different.




To support pay-as-you-go solutions offered locally by the Danmeter Distributors




Makes possible for the facility administrator to compile summary and detailed statistics for the utilization of LOC monitoring including inventory management (this feature to be announced in year 2006).



What is the CSM Dispenser
The CSM Dispenser is a small electronic device which is wirelessly interactive with a CSM monitor, and it has no user interface. It serves as a central location to keep session credits.




The number of session credits in the dispenser can then freely and easily be distributed among a pool (1 or more) of CSM monitors at the account, without requiring the entry of additional codes into the CSM monitor(s).




The loading of replacement sessions into a CSM monitor from a dispenser is very simple and can easily be done in less than 5 seconds.



What is the CSM Session Administration System
The proprietary CSM Session Administration System is embedded in the CSM monitor. Each time the CSM monitor is at work in the OR / ICU a counter for the number of unused sessions (session credits) will be decreased by one (1). When session credits is below 10 a notification automatically appears in the CSM monitor display when the unit is switched on. If the session credits becomes zero the CSM monitor is inactivated! Only a refill of new session credits to the CSM monitor will reactivate the unit back to normal operation.




To refill new sessions to a CSM monitor you have two options:




Refill new sessions by entering a CSM code to a monitor

Refill new sessions by a CSM Dispenser

It's similar to a prepaid minutes plan for your mobile phone. Instead of counting minutes, the CSM Session Control System counts the number of anesthetic procedures (see definition) carried out by the CSM monitor




It works on an individual CSM monitor and on a pool of CSM monitors. The later option is similar to a pool of mobile phones sharing a prepaid minutes plan (corporate or family prepaid minutes plan)



What is a CSM Session

Definition: 1 (one) session is defined as one anesthetic procedure with a duration of min. 5 minutes and maximum 24 hours. The time is automatically measured by the CSM monitor procedure time clock from the appearance of first CSI index number in the CSM monitor


A procedure less than 5 minutes is free and does not count as a session

A procedure less than 24 hours counts as a session

A procedure longer than 24 hours automatically counts as an additional session

If you turn on the CSM monitor without the patient lead wire connected a session is not counted, no matter for how long it is on
What is a CSM Session Code
The CSM Monitor Code and the CSM Dispenser code (CSM code) are the keys to operate the CSM Session Administration System




The code contains encrypted information




CSM monitor or CSM Dispenser device serial number

Number of replacement sessions

Code sequence ID

Other information

CSM codes can only be used once




CSM codes transfers session information to




CSM monitor – typed in by navigation keys

CSM monitor – wireless transfer via CSM Link Software

CSM Dispenser – wireless transfer via CSM monitor

The security of the code requires a central administration (Danmeter server)