CSM - Link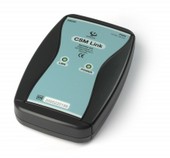 CSM Link™ – the link of CSM monitor™ information to patient monitors, computers and technology for Electronic Patient Care Reporting Systems of today and tomorrow.
The CSM Link™ serves as a physical access point for cabling to other medical devices and as a protocol converter bridging the device data within the proprietary Danmeter network and the outside medical device network. The protocols adopted and implemented in CSM Link™ today and our
commitment to adopt to open standards
in the future, expands the functionality for medical device data communication and protects your investments in the freestanding CSM Monitor today.
Operating a healthcare facility with a mixture of brands within patient monitoring and central information systems makes the choice of CSM Monitor™ and CSM Link™ perfect partners. In the case where the OR are operating one brand of standard patient monitoring and the PACU / ICU are operating a different brand only the appropriate version of the CSM Link™ product is required. The CSM Monitor™ product remains the same to the user and the adoption to different brands of patient monitors is transparent to the user.
CSM Link™ is a point-to-point access point for CSM Monitor operating in a proprietary wireless radio communication in the ISM 2.4 GHz ISM/SRD band. The CSM Link communicates wired by serial RS232 or USB to patient monitors, computers and technology for Electronic Patient Care Reporting Systems. The CSM communication protocol is open (
CSM Link comms protocol
) and available to anyone with an interest in integrating CSM monitor information in IT-projects.
When standards within Electronic Patient Care Reporting Systems becomes mature and supports bedside device data recordings, you only need an upgrade of the CSM Link supporting i.e. HL7, XML, IEEE 1073 standards to be compatible with the technology installed in your facility. In the future we expect the CSM Link to bridge from the CSM wireless network to LAN, WI-FI and 802.11b/g standards.
CSM Monitor and CSM Link are today integrated in a number of solutions for patient monitors, scientific capture software
Facts about the CSM Wireless Link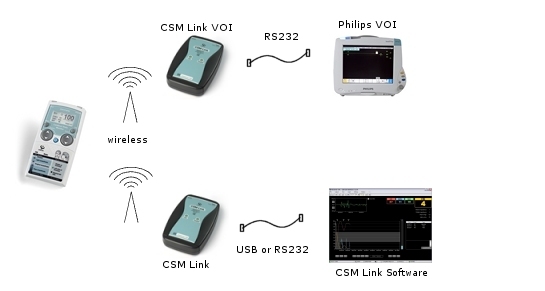 The above figure illustrates how the wireless communication works.
CSM Wireless features
a cable (fixed wire) replacement




possibility to re-locate devices easily (point-of-care monitoring)




point to point link




robust and reliable link between CSM Monitor and CSM Link points




connectable to any programmable monitoring device (RS232 or USB)



The CSM Wireless solution is based on the following techniques
ISM 2.4 GHz ISM/SRD band




FHSS frequency hopping spread spectrum




FSK frequency shift keying modulation with 1Mb/sec data rate



The CSM Wireless solution is not a standard protocol to communicate with 3rd part links like i.e. Bluetooth™. It is currently not a networking device like WiFi, and it will not interface automatically to any "standard" medical monitoring system without a certain preparation and/or configuration.