Sensors
Sensors, picking up the weak EEG/AEP signals, are the heart of every neuro monitor. Only a well prepped skin and high quality sensor guaranties the performance of a neuro monitor. The procedure pack from Danmeter contains 3 pcs low profile high quality wet-gel sensors and a practical self-adhesive dry abrasive skin prepping tool securing the fast and optimal application of sensors. The two chamber single use procedure pack is designed for a 2 years keeping qualities from printed date of production.
We recommend to prep and place the sensors at the pre-op and to test for the signal quality before entering the surgical procedure suite. The test for signals quality is easy and practical using the handheld CSM monitor and it takes less than 5 seconds to test the skin-to-sensor impedance and signal quality. In the OR it takes less than 10 seconds to snap-on the sensor lead wire to the monitor and less than 5 seconds before the first CSI index, EEG waveform and other parameters are available in the CSM display.
The Danmeter neuro monitors are designed to use a single size procedure pack for the pediatric and adult patient. No need to stock and administer several sizes of the sensors.
Prepare skin, place 3 sensors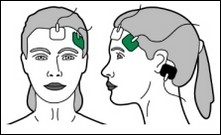 The low profile design of the Danmeter sensors are comfortable to the patient and enable a continued monitoring in all settings of the patient and without disturbance of the EEG signal.